Budget point-and-shoot range updatedCameras News By Marcus Hawkins 7 hours ago | Tell us what you think [ 0 comments ]
Tweet
Canon has unveiled a new range of budget compacts
Canon has updated its PowerShot A series of budget compact cameras. Each of the six new models features a 16 million pixel sensor, DIGIC 4 processing and a 28mm wide-angle zoom lens.
The new compacts also feature image stabilisation, although only the more expensive A2400 IS, A3400 IS and A4000 IS feature an optical Image Stabilizer with Intelligent IS technology. This automatically detects the scene being photographed and applies one of six different IS modes, such as Panning ID, Tripod IS or Macro IS.
All six models are capable of shooting 720p movies and come complete with a dedicated Movie Record button. A new Auto control gives instant access to Smart Auto mode, while six creative effects, including Miniature and Monochrome can be applied with the touch of a button.
To keep the cost down, the entry level PowerShot A810 (£89) and A1300 (£109) are powered by AA batteries. Both cameras feature a 2.7-inch LCD scree, with the A1300 adding an optical viewfinder for improved handling in bright light.
The slim PowerShot A2300 (£119) is aimed at fashion-conscious photographers and is available in four different colours. Almost identical in terms of specifications, the A2400 IS (£129) adds both optical and Intelligent Image Stabilisation.
Touchscreen controls
Of more interest, perhaps, is the PowerShot A3400 (£149) which packs the first 3-inch touchscreen LCD in the PowerShot A series. This brings both Touch AF and Touch Shutter functionality, with control enhanced further by dedicated Auto, Movie Record and Help buttons.
Sitting at the top of the new PowerShot series is the PowerShot A4000 IS, (£169) which is the first PowerShot A model to feature an 8x optical zoom lens. Like the A2300, it metal body comes in a choice of four colours.
The PowerShot A4000 IS UK price is £169 and it is available in February. The PowerShot A3400 IS (£149), PowerShot A2400 IS (£129) and PowerShot A2300 (£119) will be available in March. Finally, the PowerShot A810 (£89) and PowerShot A1300 (£109) will be released in April.
Canon PowerShot A810 key specs:16 Megapixels 28mm wide-angle lens, 5x optical zoom720p moviesSmart Auto (32 scenes)Help buttonCanon PowerShot A1300 key specs: 16 Megapixels 28mm wide-angle lens, 5x optical zoomOptical viewfinder720p moviesSmart Auto (32 scenes)Canon PowerShot A2300 key specs:16 Megapixels 28mm wide-angle lens, 5x optical zoomSmart Auto (32 scenes)720p moviesLi-ion batteryCanon PowerShot A2400 IS key specs:16 Megapixels28mm wide-angle lens, 5x optical zoomIntelligent ISSmart Auto (32 scenes)720p moviesLi-ion batteryCanon PowerShot A3400 IS key specs: 16 Megapixels28mm wide-angle lens, 5x optical zoomIntelligent ISLarge 3-inch touch screenSmart Auto (32 scenes)720p moviesPowerShot A4000 IS key specs:28mm wide-angle lens, 8x optical zoomIntelligent IS16 Megapixels720p moviesLarge 3-inch LCD Tags: cameras, Canon, PowerShot, budget cameras, compactsTweetreddit!Stumbleupon  Tell us what you thinkYou need to Log in or register to post comments By submitting this form you agree to our Terms of Use and so are legally responsible for anything you submit. DO NOT submit anything which may violate the Terms of Use or another person's rights including copyrighted or offensive materials.
Submit Explore News CamerasCamcorders Related News Canon announces IXUS pairNew Canon SELPHY CP810 announcedCanon unveils superzoom compact duoCanon reveals three new EF lensesCanon D20 waterproof camera unveiled Related Reviews Canon imageFORMULA P-215Canon EF 8-15mm f/4L Fisheye USMCanon EOS 7D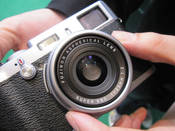 Best compact camera 2012: 27 reviewed
Get the best digital camera for your needs
Cameras@TechRadar
Our guide to the best new cameras:
LatestCamera reviewsCanon SX40 HSSony NEX 5NNikon 1 (V1)Nikon 1 (J1)Olympus E-P3Panasonic GF3Panasonic G3Canon 310 HSSamsung NX11Canon EOS-1DXFuji X10Hot compacts
Canon G12Nikon P7100Olympus XZ-1Canon S95Leica X1Samsung SH100Panasonic LX5Panasonic TZ20Nikon S3100Fuji X100Canon S100Canon 230 HSSony NEX-5Hot DSLRsCanon 600DCanon 1100DSony NEX-7Nikon D7000Olympus E-PL2Olympus E-5Canon 60DCanon 7DNikon D3100Pentax K-5Nikon D5100Nikon D3000
Plus
Best DSLR camerasCamera rumoursBest compact camerasNikon rumours
Best DSLR: top cameras by price and brand
Get the best digital SLR for your needs
Find a review
Best Canon PowerShot 2012: current models reviewed
Find the best PowerShot camera for your needs
Get more from TechRadar PS VitaiPhone 5 rumours: what you need to knowiPad 3 rumours: what you need to know20 best mobile phones in the world todaySamsung Galaxy S3: what you need to knowiPhone 4SSamsung Galaxy NexusNokia Lumia 800Amazon Kindle FireSamsung Galaxy NoteNikon V1HTC RadarNikon J1HTC SensationSamsung Galaxy AceiPad 2HTC Incredible S
Best compact camera 2012: 27 reviewed
Get the best digital camera for your needs
TechRadar Poll
Do you subscribe to a film streaming service?
YesNo, not enough contentNo, I love physical mediaNo, too expensiveWhat's film streaming?
Vote Results
Best Canon IXUS cameras by price and spec
Find the best IXUS camera for your needs
Where am I?Technology NewsTech newsApple newsMobile phone newsTablet newsTV newsCamera newsPC component newsPC newsLaptop newsInternet newsGadget newsGaming newsHome cinema newsHi-fi newsTechnology ReviewsDigital camera reviewsCamcorder reviewsMobile phone reviewsMP3 and iPod reviewsNetworking reviewsPC reviewsPC component reviewsLaptop reviewsTablet reviewsTV reviewsBlu-ray reviewsHi-fi reviewsTechRadarAbout usContact usSitemapReport this pageAccessibilityMedia enquiriesTerms and conditionsPrivacy policyAdvertising enquiriesJobsMore from TechRadarRegister & email newsletterFacebookTwitterYouTubeRSS feedsForumsPhone dealsSell your old mobileTechRadar Network3D RadarTap! magazineMacFormat magazinePC Format magazinePC Plus magazineLinux Format magazine
Copyright 2006 - 2011 Future Publishing Limited,
30 Monmouth Street, Bath, BA1 2BW, United Kingdom
England and Wales company registration number 2008885
Digital FutureBikeRadarT3MusicRadarGamesRadarPhotoRadar